A 3-step haircare regime, consisting of Shampoo PH9, Hair Treatment, and Mask Protein. Developed using the best hair treatment technology, it gives strength, intense shine, and lightness to hair. A rich treatment that results in 100% smooth hair.
High standards for great hair care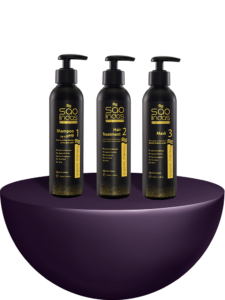 Sustainably sourced Natural ingredients
Selected for effectiveness, not hype
How to use of the Hair Treatment Kit?
STEP 1 How to use SHAMPOO PH9
Apply Shampoo ph9 Organic Therapy SAOLINDAS to wet hair. Massage until it lathers, then rinse well. Repeat if necessary.
STEP 2 How to use HAIR TREATMENT
Apply Hair Treatment Organic Therapy SAOLINDAS strand by strand, always respecting 1 centimeter of root. Leave to work for two minutes, depending on the hair fiber structure, realigning the strands with a fine comb every minute. After this time, rinse the hair with plenty of water, dry, brush and straighten in thin sections at a temperature of 180°C to 190°C. Finish as desired.
STEP 3 How to use MASK PROTEIN

Apply Mask Protein Organic Therapy SAOLINDAS to damp, clean hair, working from the scalp to the ends, massaging the hair gently. Leave for two minutes for maximum hydration and then rinse with plenty of water. Finish as desired.